The Federal Trade Commission is accusing T-Mobile of knowingly billing customers for hundreds of dollars in bogus charges.
The agency claims T-Mobile made millions of dollars by charging cell phone customers for premium subscriptions that in many cases they never authorized.
The FTC says T-Mobile received as much as 40-percent of the total amount charged to consumers for subscriptions for certain content.  They included flirting tips, horoscope information or celebrity gossip that typically cost $10 per month.
The practice is often referred to as "cramming."   The FTC posted an example bill from a T-Mobile customer that was hit with one of these so-called charges.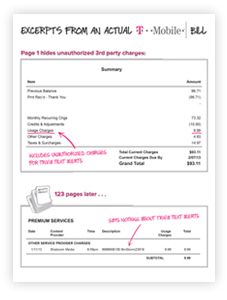 When this customer viewed his or her bill online, the charge was buried under vague and inscrutable categories like "Usage Charges" and "Premium Services."
"It's wrong for a company like T-Mobile to profit from scams against its customers when there were clear warning signs the charges it was imposing were fraudulent," said FTC Chairwoman Edith Ramirez. "The FTC's goal is to ensure that T-Mobile repays all its customers for these crammed charges.
In a statement posted online, T-Mobile denies the claims saying, "We have seen the complaint filed today by the FTC and find it to be unfounded and without merit," explained T-Mobile CEO John Legere.  The FTC argues that T-Mobile knew about the charges, because customers have been complaining about them since 2012.
The agency encourages consumers to contact their wireless provider if they fear they are a victim of cramming.  Customers can also file a complaint with the FTC.  One way to try and prevent fraudulent charges is to ask your providers to block all third-party businesses from providing services on their phones.
Incidentally, the FTC says its seeking refunds for T-Mobile consumers.